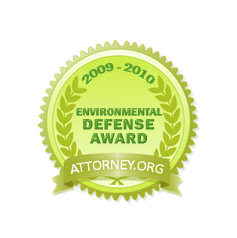 Looking for more great environmental law blogs? Read on…
Dianne,
My name is Michael Foti and I am the Executive Director of Marketing for the Attorney.org Equality, Justice, and Peace network. Aside from being one of the top resources for attorney information and legal news, our primary mission is to raise awareness and take a stand on pressing issues in an effort to fight for change.
Currently, our goal is to fight for the protection of natural resources, environmental/land use law, and going green.  We hope that by gaining enough support, lawmakers and other organizations will align to protect the earth.  While we already have an environmental law section on Attorney.org that contains the latest news and information, we will also be highlighting the topic through a number of different means including a front page feature stating our position on the issue while also urging the general public to make a difference.
Coinciding with this campaign, we will be running a piece that lists and highlights some of the top environmental law blogs and resources.
I'd like to take this time to personally congratulate you as we have selected your EnviroLaw blog as one of the leaders in the environmental law field. As a result, your blog will be highlighted in our article in addition to being added to our environmental law resource section.  We strive to provide our Attorney.org viewers with the best resources in each category and I feel your blog would be a great addition.
Thank you and congratulations!
Michael Foti